THE OBSERVATION WHEEL
In the grounds of the "Station Hotel" 2011-2013
Between December 2011 and September 2013 this 53-metre high observation wheel provided visitors, and residents alike, with some great views of the city. Unfortunately the attraction only had a temporary licence to operate. A ride on the wheel cost £8.50 for adults and £5 for children. Take a look at the photographs and HD videos on this page to see the City from this unique vantage point.
York Minster & The Guildhall
This 1-minute video shows some spectacular views of York Minster as the wheel takes you almost as high as the great cathedral. Also good views of The Guildhall, Lendal Bridge and Lendal Tower.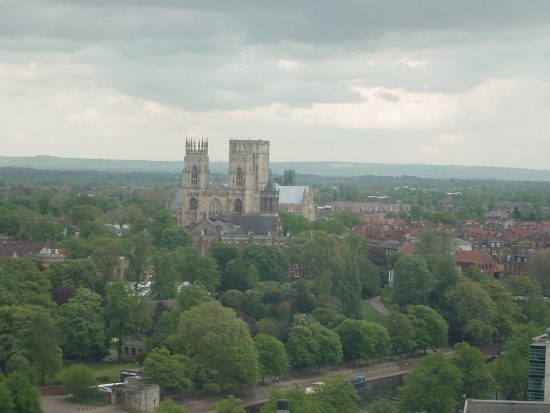 York Minster
With the River Ouse in the foreground and the distant hills in the backround, York Minster rises majestically above a surprisingly green York city centre.
---
York Railway Station & Station Hotel
We are looking the other way on this video, with great views of York railway station, the National Railway Museum, the River Ouse and the Station Hotel (now known by the name Principal).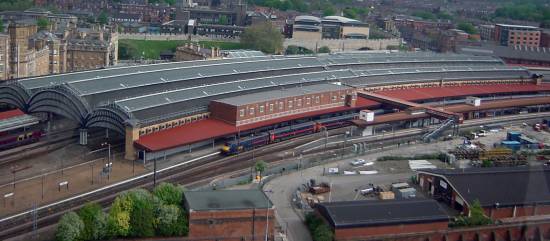 York Railway Station
York's magnificent Victorian railway station looks a lot plainer from above. A section of the City Walls can be seen behind it.
---
City Overview from the Top
A dizzying overview of the City from the very top of the wheel. Features the Grand Hotel (ex Railway HQ) and Malmaison (ex Norwich Union offices).
Planning a visit to York?
Visit our sister site Information for Visitors to York for a 3-day weather forecast, live weather camera, and up-to-date events listings.
---
---
---